Welcome to our complete solutions for processes
Gas distribution panels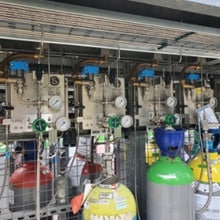 Our panels ensure constant flow and pressure in the high and low pressure line. Your equipment is supplied with gas at the desired pressure, under the required conditions, in optimal time, which eliminates the risk of downtime . These systems are particularly suitable for calibration gases or for helium used as carrier gas for chromatographs.
Easy to use and adjust, and maintenance free, the range includes:
Swagelok® Gas Panel

(SGP) - Single or double expansion (connection for one or two cylinders)

Swagelok® Changeover (SCO)

Swagelok® Point-of-Use

(SPU)
Mechanical efficiency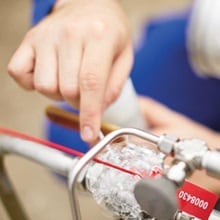 As an engineer responsible for rotating equipment or a process engineer or owner of a pilot plant , you have certainly used 1 "to 2" piping systems in the traditional way for your applications. Have you ever considered tubing solutions for overall cost reduction ? Such systems are advantageous for their ease of maintenance and their increased flow in lubrication systems. So, tube or pipe? We can assist you in the cost assessment for such a project! Enjoy a free 30-minute consultation with our specialist Christine Simard.
Pump Mechanical Seal Systems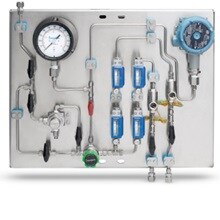 Our pump mechanical seal support panels (pump seal) supply gas or liquid to the pump mechanical seal to regulate the environment in which it operates. The panels have been designed according to several standardized models that can then be customized according to your precise needs. Some parts have also been specially created to facilitate the installation of pump seals where lack of space is often an issue (fitting with orifice and elongated male connector).
These pump mechanical seal systems have four main functions:
Provide lubrication to sealing elements
Check the pressure and temperature in the sealing chamber
Wash the seal of contaminants and / or accumulated residue
Prevent system process fluid from leaking into the atmosphere
Chemical injection panel or skid
These assemblies are widely used for handling additives in processing lines. They are found in water and steam applications, injecting chemicals into the process to maintain a proper reaction.
Pressure gauge and isolation valve
Get the complete solution for controlling the pressure in your processes from a single source. We offer the pressure gauge + isolation valve assembly to reduce assembly times and to comply with certain industry standards . No need to place several orders since a unique part number is associated with the assembly.
Air distribution manifold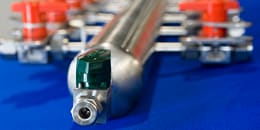 The distribution manifolds are standardized and reliable solutions for the distribution of fluids. They are used for a wide variety of applications because they prevent a complete system shutdown in the event of failure of a component supplied with the fluid.
Winterization
Heating is the most effective method of protecting your systems. If your operations are critical, you may want to consider options such as steam or electric tracing of your lines, jacketing of valves, flexible hoses or tubing, or even bundling of similar lines .
SEE OUR ARTICLE ABOUT WINTERIZATION
Technical support to engineering firms and laboratories
We provide expert support in terms of technical information, product selection and fluid system design. This includes :
Application engineering
Technical drawings
Product substitutions
Prototyping services
Product technical support
Testimonial

Our technical advisor is familiar with all the equipment at Groupe Swagelok Quebec; his product advice and help are much appreciated.
| | |
| --- | --- |
| | Pierre - Maintenance manager - Chemical plant |
See also our complete solutions for chemical and petrochemical industries
Selection of products and materials